We've moved to Facebook!
For our most up to date news and events, please visit our Facebook and Twitter pages.
Ministerial visit: Assistant Foreign Minister Tim Watts in Ghana
The Hon Tim Watts MP, Assistant Minister for Foreign Affairs for Australia, visited Ghana from 7 to 8 December 2022. His visit focused on Australia-Ghana relations including meetings with a range of Ghanaian government ministers and engagements with Australian companies.
Minister Watts also saw first-hand the work of The Hunger Project, Australia which is funding the Akode Epicentre focussed on improving livelihoods, and also visited Australian-Ghanaian clothing company, YEVU Clothing, which is empowering Ghanaian women to bring Ghana's dynamic textile designs to Australian consumers.
ANZAC Day 2022
The Australian High Commission commemorated ANZAC Day 2022 with a dawn service at the Osu Christiansborg War Cemetery followed by a traditional Gunfire Breakfast in Accra, Ghana. The annual ANZAC Day commemoration on 25 April is marked by Australians and New Zealanders around the world who gather to reflect on the courage and sacrifice of their fallen servicemen and women. We were joined by the Australian and New Zealand communities in Accra, including the New Zealand Honorary Consul, and diplomatic missions to Ghana from Turkey, Britain, United States, Canada, France and Germany. Members of the Ghana Veterans Administration and the Ghana Armed Forces also participated including the Ghana Armed Forces band and wreath bearers.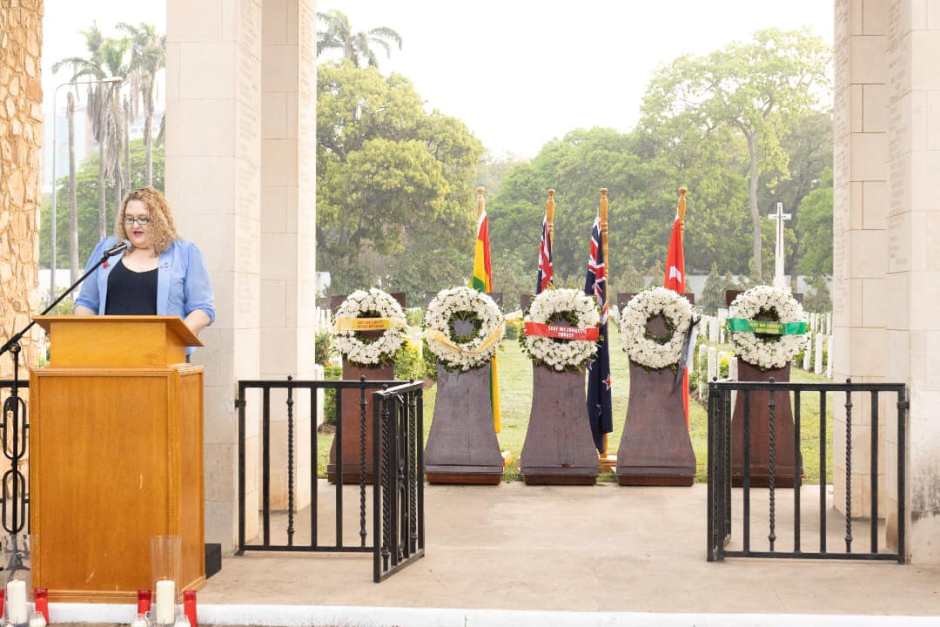 Australian High Commission supports innovation to address plastic waste management
Deputy High Commissioner, Nicole Guihot, was delighted to visit Environment 360's newly opened Circular Innovation Hub, aimed at tackling the challenge of plastic waste management. The Australian Aid-funded facility, the first of its kind in West Africa, is located in Dodowa, in the Shai Osudoku District of the Greater Accra region. The hub will also provide economic opportunities for women. The project's first cohort of women trainees are being equipped with skills in small scale recycling of used plastic to make consumable items such as handlebars for bicycles, flower vases, and buttons. They will also receive support in finding viable markets for their products and in setting up their own recycling businesses within their communities.