International Women's Day 2018: gender-based violence mentoring day
The Australian High Commmission partnered with two ghanaian advocacy groups - the Gender Violence Survivors' Support Network and Women in Law and Development Africa - and invited 100 junior high school students to discuss sexual and gender-based violence. The students interacted with over a dozen experts from various fields and were informed on practical ways to report and be protected against sexual and gender-based violence. The Australian High Commission is glad to encourage young girls and boys to be agents of change in their communities.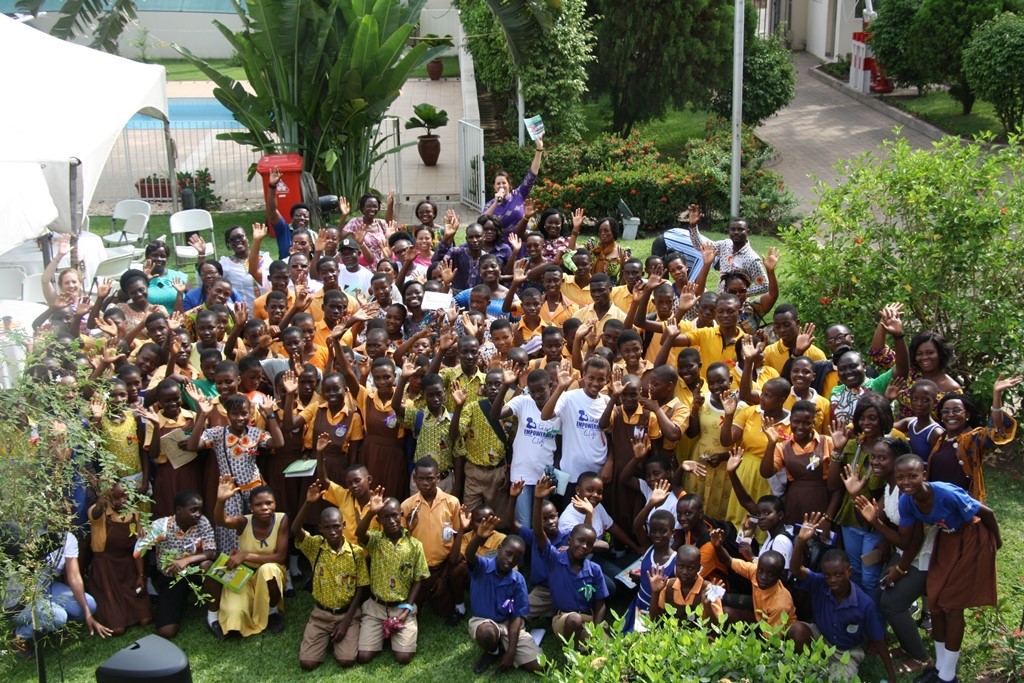 Gold Coast Commonwealth Games 2018: Send-off reception for Ghanaian athletes
Over 60 Ghanaian athletes representing 12 sports gathered at the Australian Residence to celebrate the spirit of sporting camaraderie ahead of the Commonwealth Games in Gold Coast Australia starting on 2 April 2018! From weightlifting to swimming, cycling, boxing, hockey and more, it was a beautiful evening encouraging all athletes to 'Go for Gold' from one Gold Coast to another.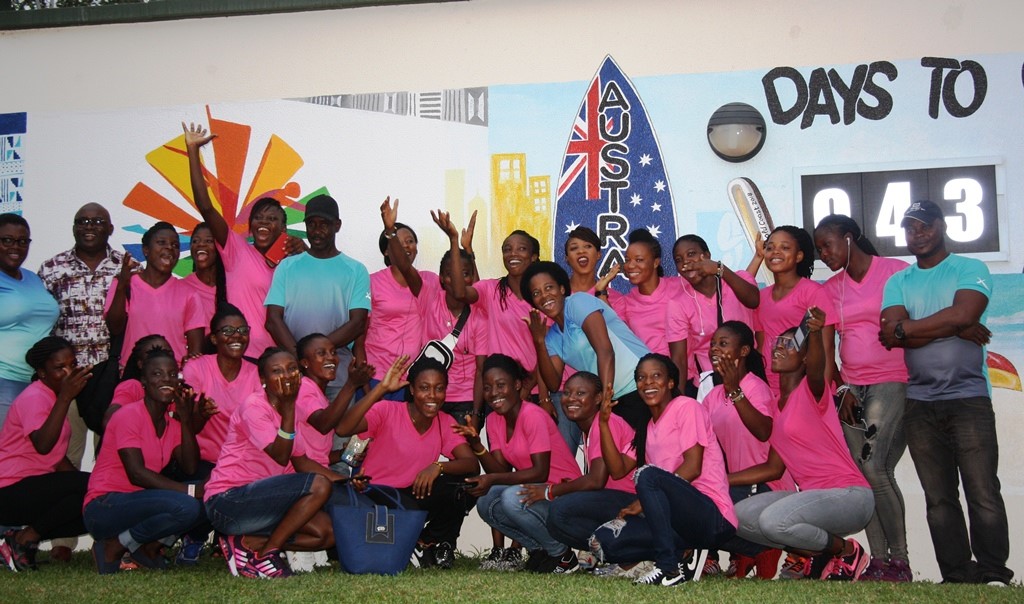 Photo: Members of the Ghana Women's Hockey Association cheering during the Commonwealth Games send-off reception.
DUNK receives GHS 130,000 proceeds from Melbourne Cup Ball
Thanks to our generous guests and sponsors, the 2017 Melbourne Cup Ball raised a record GHS 130,000 for Ghanaian NGO DUNK Grassroots (Developing Unity, Nurturing Knowledge). DUNK grassroots - supported by the Australian High Commission since 2014 – provides a safe space for at-risk children, adolescents and young women in Nima and Jamestown to play, learn, and grow through sports, after-school support, life-skills, and vocational training.
The proceeds raised at last year's 2017 Melbourne Cup Ball will be used to upgrade facilities at DUNK's Jamestown site, including a new surface for the basketball cum handball cum volleyball court, repairs to the perimeter wall and a new playground and change room facilities.
The Australian High Commission thanks our generous Melbourne Cup Ball sponsors (platinum sponsors – Geodrill, Emirates, Labadi Beach Hotel, Mӧvenpick; and gold sponsors - Accra Brewery Limited, African Regent Hotel, African Underground Mining Services, Don Emilio, Koala, Kempinski Hotel, Newmont, Puma Energy) and guests for helping local NGOs like DUNK to make a genuine difference in their communities.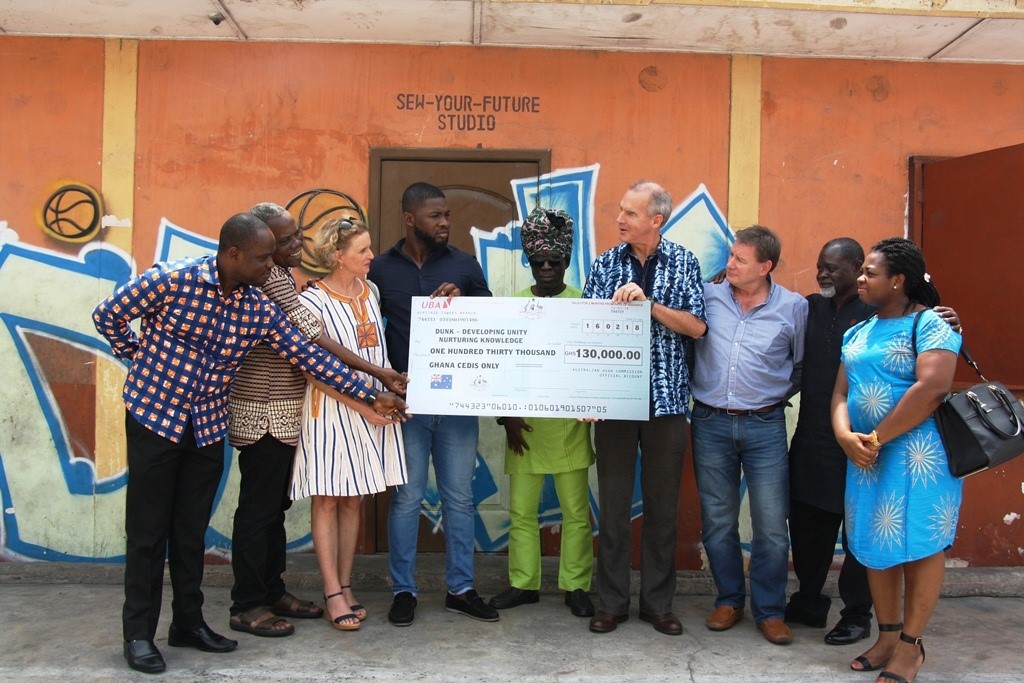 Special patrons of the Melbourne Cup Ball, Geodrill CEO Dave Harper (third right) and Ghanaian legents Azumah Nelson (second right) and Kojo Antwi (center) presenting cheque to DUNK Founder, Mohammed Tahir (fourth left).
Australia Day 2018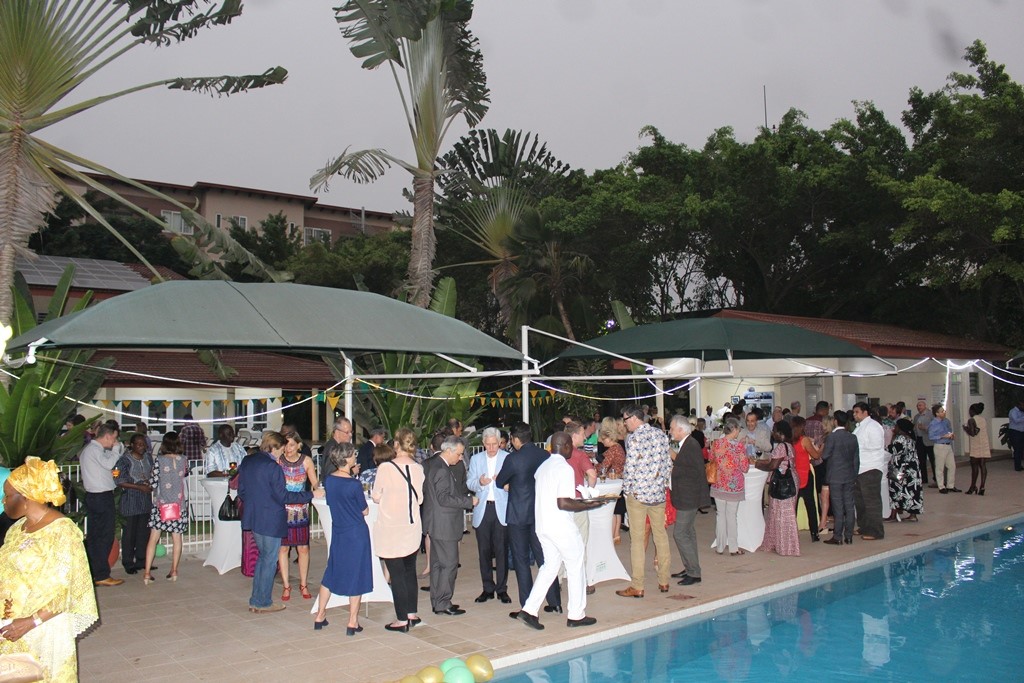 The Australian High Commission in Ghana was pleased to celebrate Australia Day 2018 at the Residence with fellow Australians, diplomatic colleagues, and Ghanaian friends. Mingling and movies were on the program. We thank, once again, all who attended the event!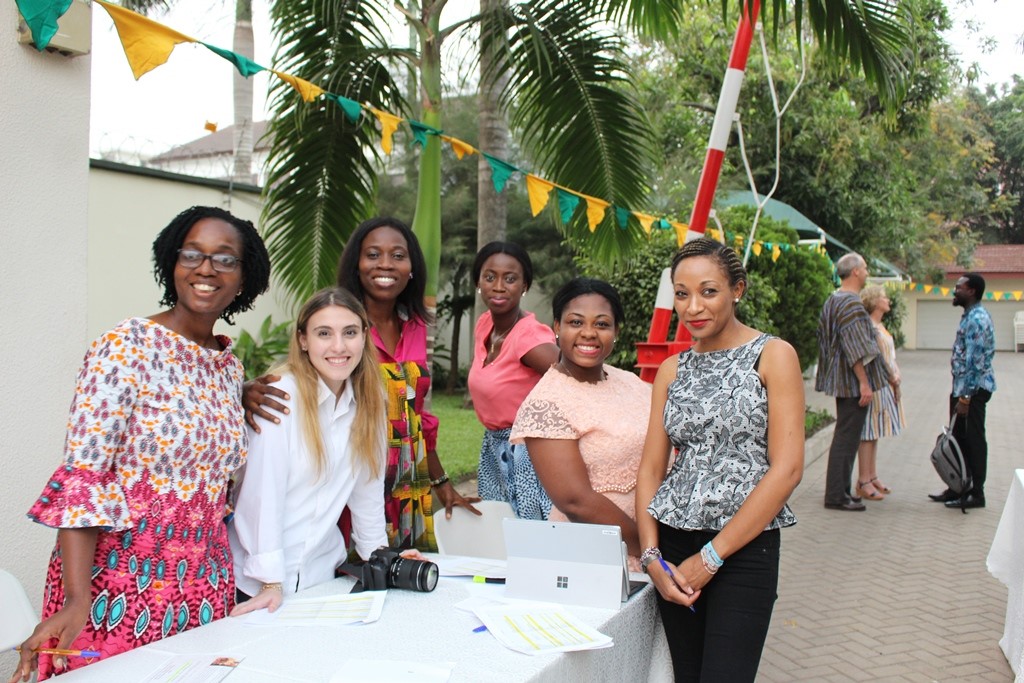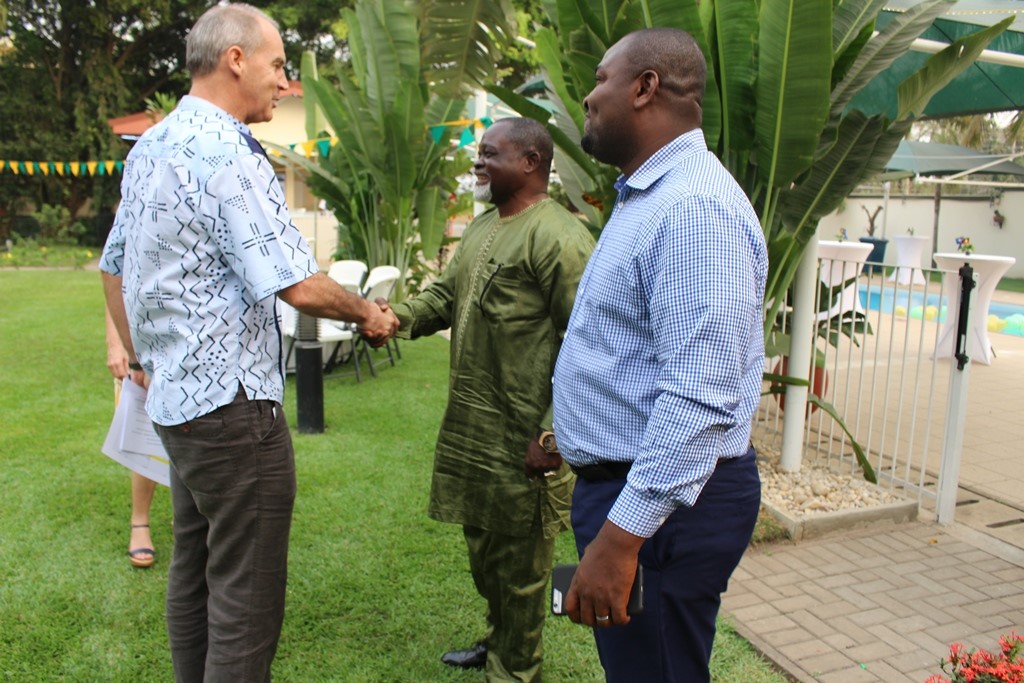 Australian Ambassador Barnes presents credentials to Malian President Ibrahim Boubacar Keïta
HE Andrew Barnes was in the Malian capital of Bamako to officially present credentials to Malian President Ibrahim Boubacar Keïta, formally making him Australian Ambassador to Mali. During his visit, he also had the opportunity to meet with Mali's Foreign Minister HE Abdoulaye Diop and Mines Minister Hon. Prof Sangaré to further discuss Australian-Malian bilateral ties. Australia is proud to partner with Mali in developing its natural resources responsibly.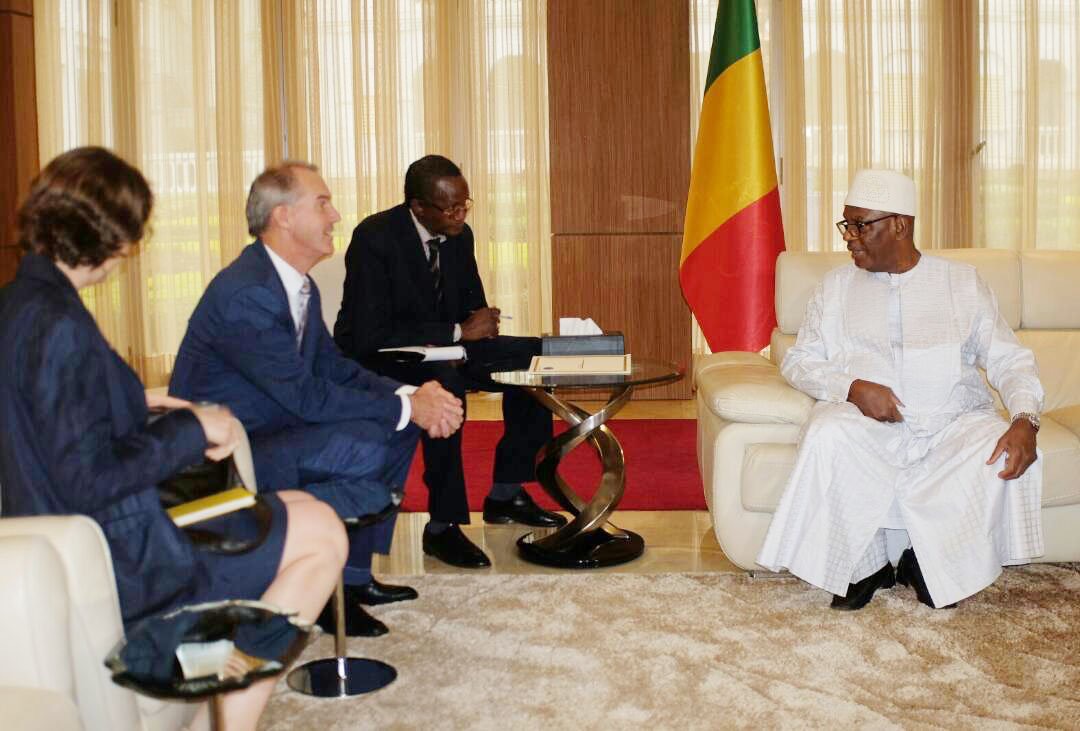 Media Release: Government of Australia Supports Mudslide Recovery Efforts in Sierra Leone
Accra, 15 November 2017. The Australian Government will provide AU$200,000 in humanitarian assistance to Sierra Leone for relief and recovery efforts following the devastating floods and mudslide in August. This funding will support UNICEF's recovery efforts, particularly those aimed at protecting vulnerable children, who often suffer the most in such emergencies. Australian High Commissioner to Sierra Leone Andrew Barnes said "the thoughts and deepest sympathies of the Australian Government and people are with all Sierra Leoneans affected by the devastation of the August flooding and mudslide." He added that "protecting children in the event of a humanitarian crisis is critical, as they represent the most vulnerable members of affected communities. This Australian-funded project carried out by UNICEF will ensure that the needs of children in Sierra Leone are looked after in the most difficult of circumstances."
National Reconciliation Week 2017: 'Indigenous Textiles' Fashion Shows held in Freetown and Accra
The Australian High Commission was delighted to welcome Australian Indigenous designer Arkie the Label and garments from Aboriginal fashion label Magpie Goose to West Africa in honour of National Reconciliation Week. Arkie and Magpie Goose showcased their designs in two very special fashion shows in Freetown (1 June) and Accra (3 June), alongside Sierra Leonean designers Maryzo Designs and Miimanu Couture and Ghanaian graduate designers from Radford University College: Steve French, Aicha Badoo, Nathaniel Boi, Dorcus Kpogoh, Samuel Otteng and Alexandra Tomiyama.
The shows celebrated the rich heritage of Australia's Aboriginal and Torres Strait Islander peoples alongside Ghanaian and Sierra Leonean cultures. The @AustralianHighCommissionGhana would like to thank our partners Vickie Remoe and Company and the Ghana Fashion Board and sponsors Emirates and La Villa Boutique Ghana, whose support made these shows possible.
Find out more about Arkie here: www.arkiethelabel.com and Magpie Goose here: www.magpiegoose.com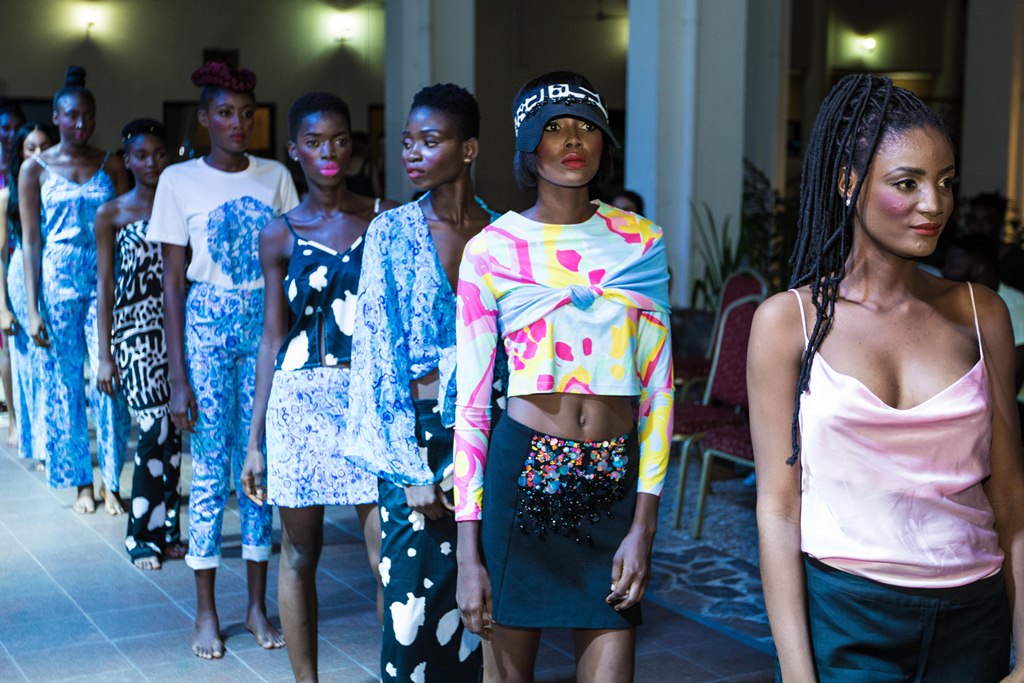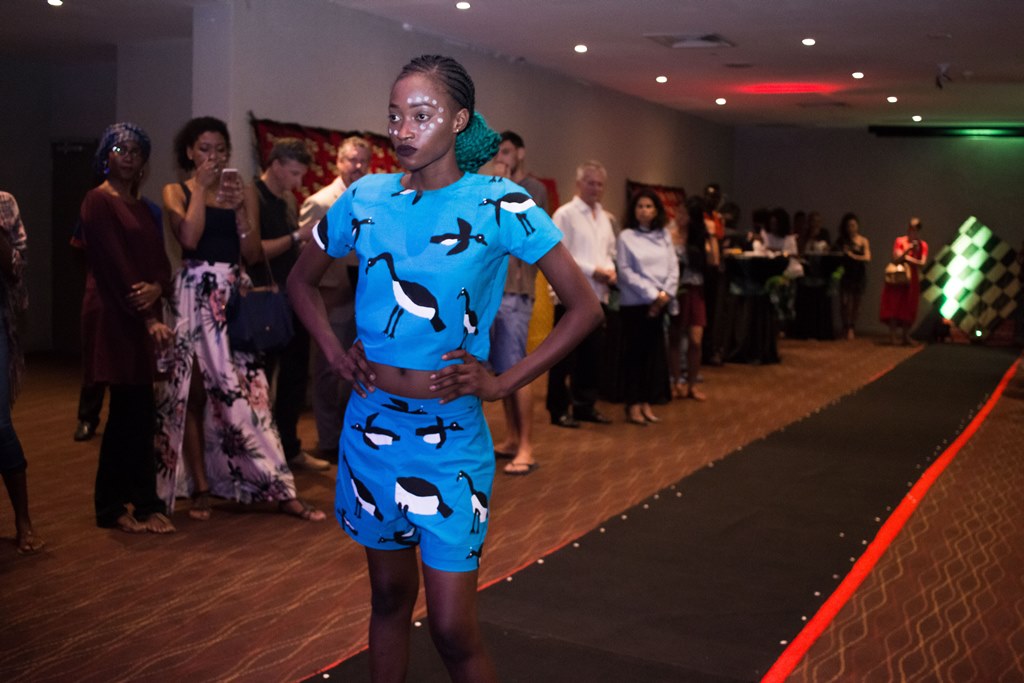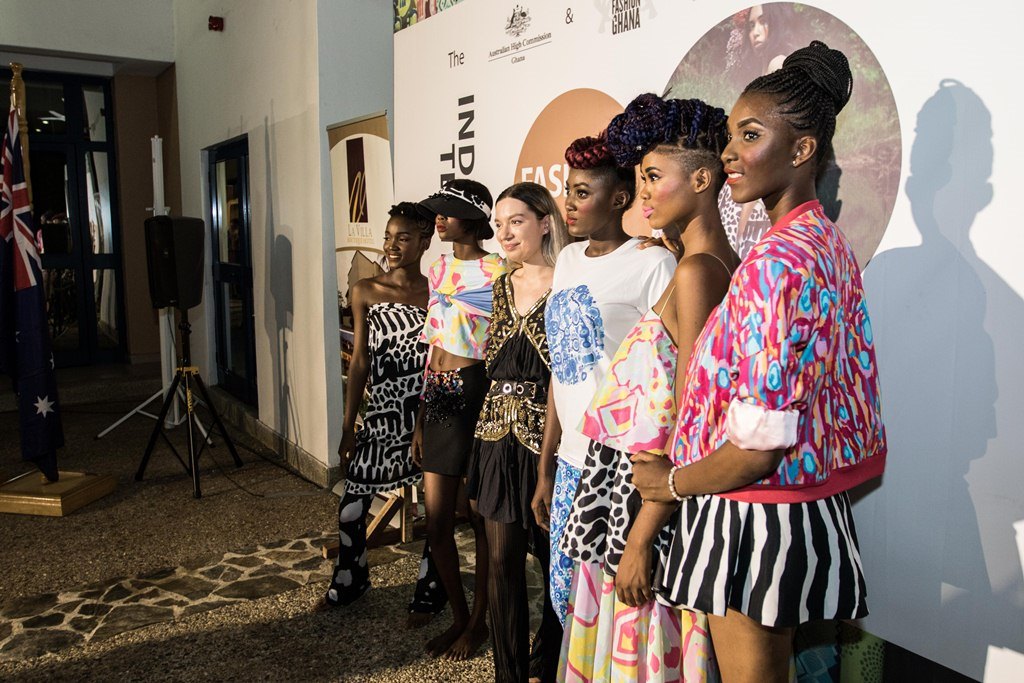 Australian High Commission raises over GH¢ 50,000 in support of Ghana's Commonwealth Games preparations
The Australian High Commission is pleased to announce that our Commonwealth Games Gala Dinner, which welcomed the Queen's Baton to Ghana on 19 March 2017, successfully raised over GH¢50,000 for the Ghana Olympic Committee and the Azumah Nelson Foundation.
The gala dinner featured four exciting boxing bouts in front of 200 guests under the patronage of Ghanaian Vice-President Dr. Mahamudu Bawumia and legendary Ghanaian boxer Azumah Nelson.
The Australian High Commissioner, Andrew Barnes, presented cheques for GH¢25,000 to the Ghana Olympic Committee (GOC) and GH¢ 25,000 to the Azumah Nelson Foundation. These funds will assist both organisations in preparations for the 2018 Gold Coast Commonwealth.
The majority of the funds were raised thanks to generous sponsorship from Australian and Ghanaian mining companies: Azumah Resources Limited, Perseus Mining Limited, Resolute Mining Limited, African Mining Services and Geodrill Limited.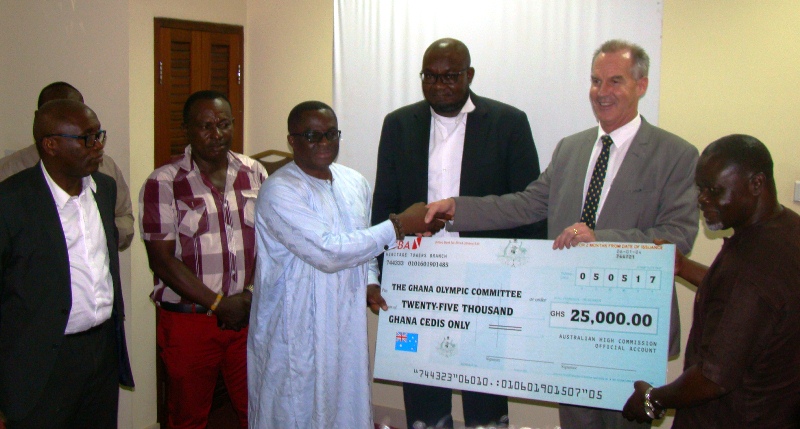 Australian filmmaker Rachel Perkins tours films in Accra
Award-winning Australian Indigenous filmmaker Rachel Perkins was in Accra from 25-28 April to showcase a selection of her productions to audiences in Ghana. During her visit, Ms. Perkins met with Ghanaian film and media professionals, ran a workshop with students of NAFTI, screened "Pretty Boy Blue" at Brazil House, Jamestown, and held discussions with staff and students of the African Women's Development Fund and Lincoln Community School respectively. The Australian High Commission to Ghana would like to thank all who came along to celebrate Ms.Perkins' work and who helped make the visit such a success.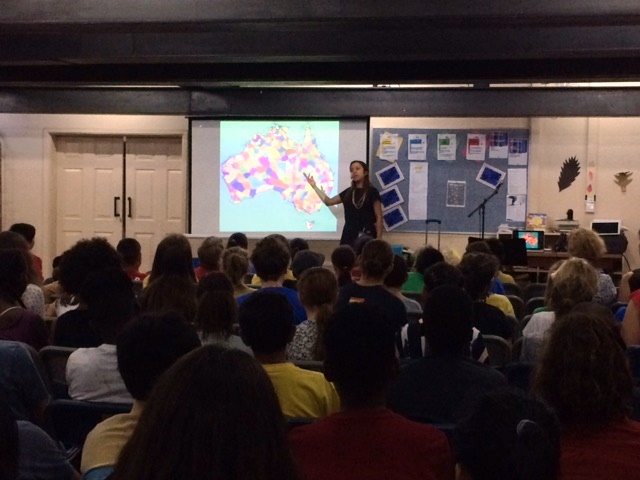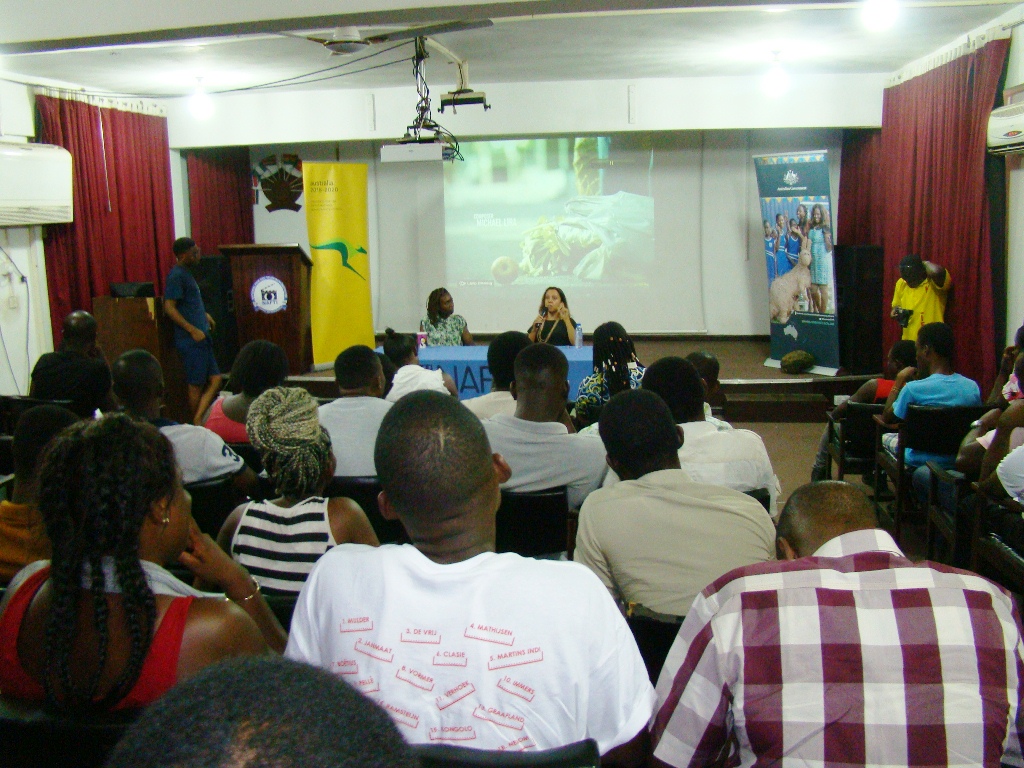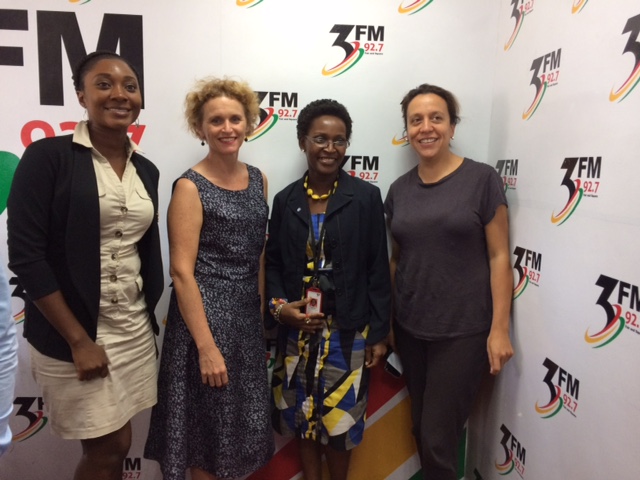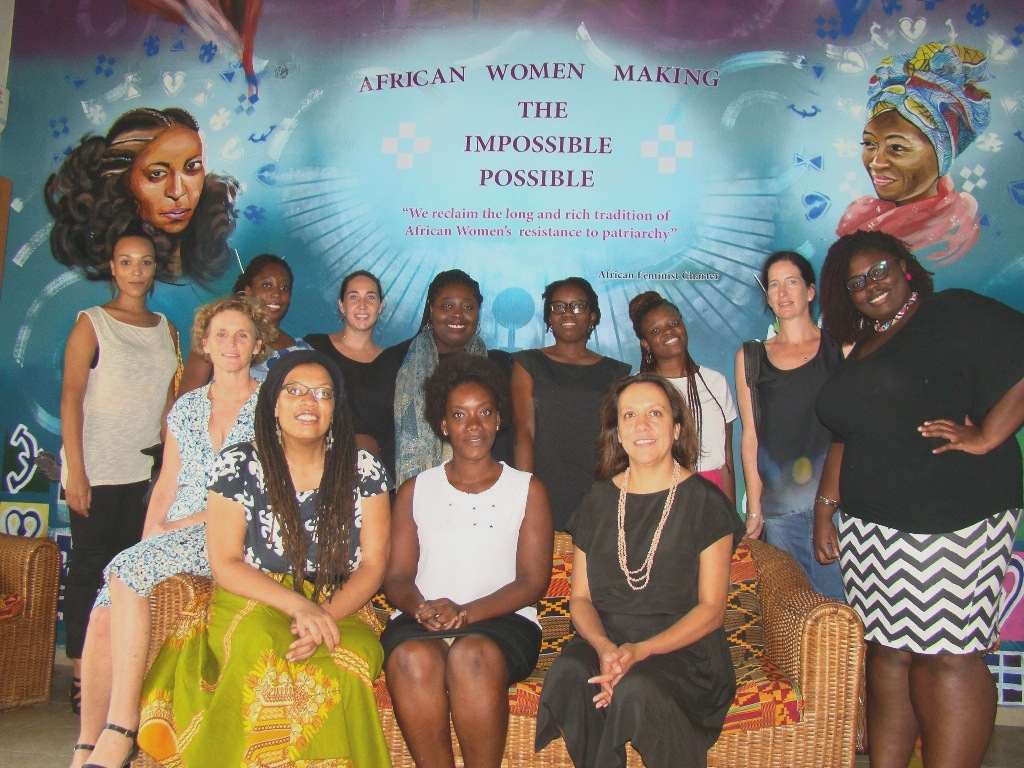 Australian High Commission launches 24 Direct Aid Program projects
The Australian High Commission in Ghana hosted an event to launch 24 development projects benefiting from funding under the 2016-17 round of its Direct Aid Program (DAP) on 12 April 2017. The event, held at the residence of the Australian High Commissioner in Accra, doubled as a training session for grant recipients. Australian High Commissioner to Ghana, Mr. Andrew Barnes, congratulated participants on being selected to receive funding through the highly competitive DAP, which provides small grants for development projects in a range of sectors including extractives, sanitation, education, and women's economic empowerment.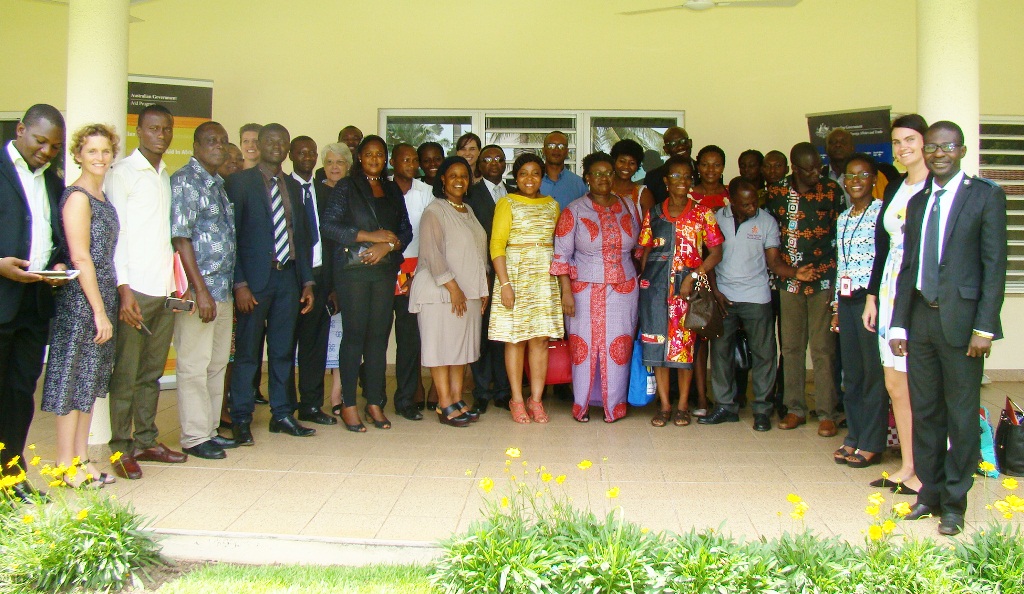 Australia hosts Commonwealth Gala Dinner to welcome Queen's Baton in Ghana and Sierra Leone
The Australian High Commission in Ghana marked the arrival of the Queen's Baton Relay by hosting a Gala to raise funds in support of Ghana's Olympic Committee and the Azumah Nelson Foundation on 19 March 2017. Some of Ghana's best up and coming boxers performed throughout the evening under the patronage of legendary boxer Azumah Nelson and Ghanaian Vice-President Dr. Mahumudu Bawumia. Guests enjoyed posing with the iconic Queen's Baton, raising excitement for the upcoming Commonwealth Games to be held in the Gold Coast, Australia in April 2018!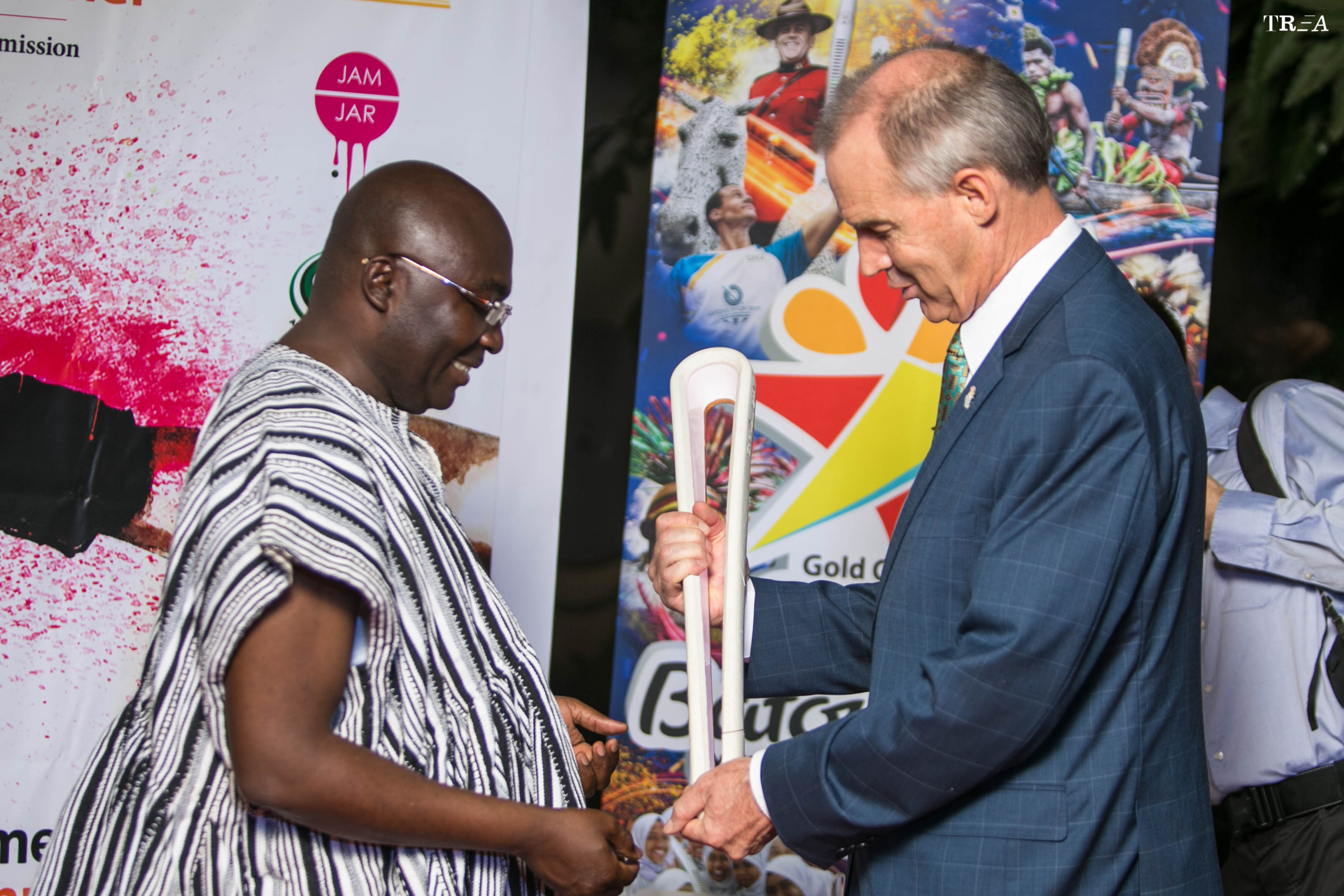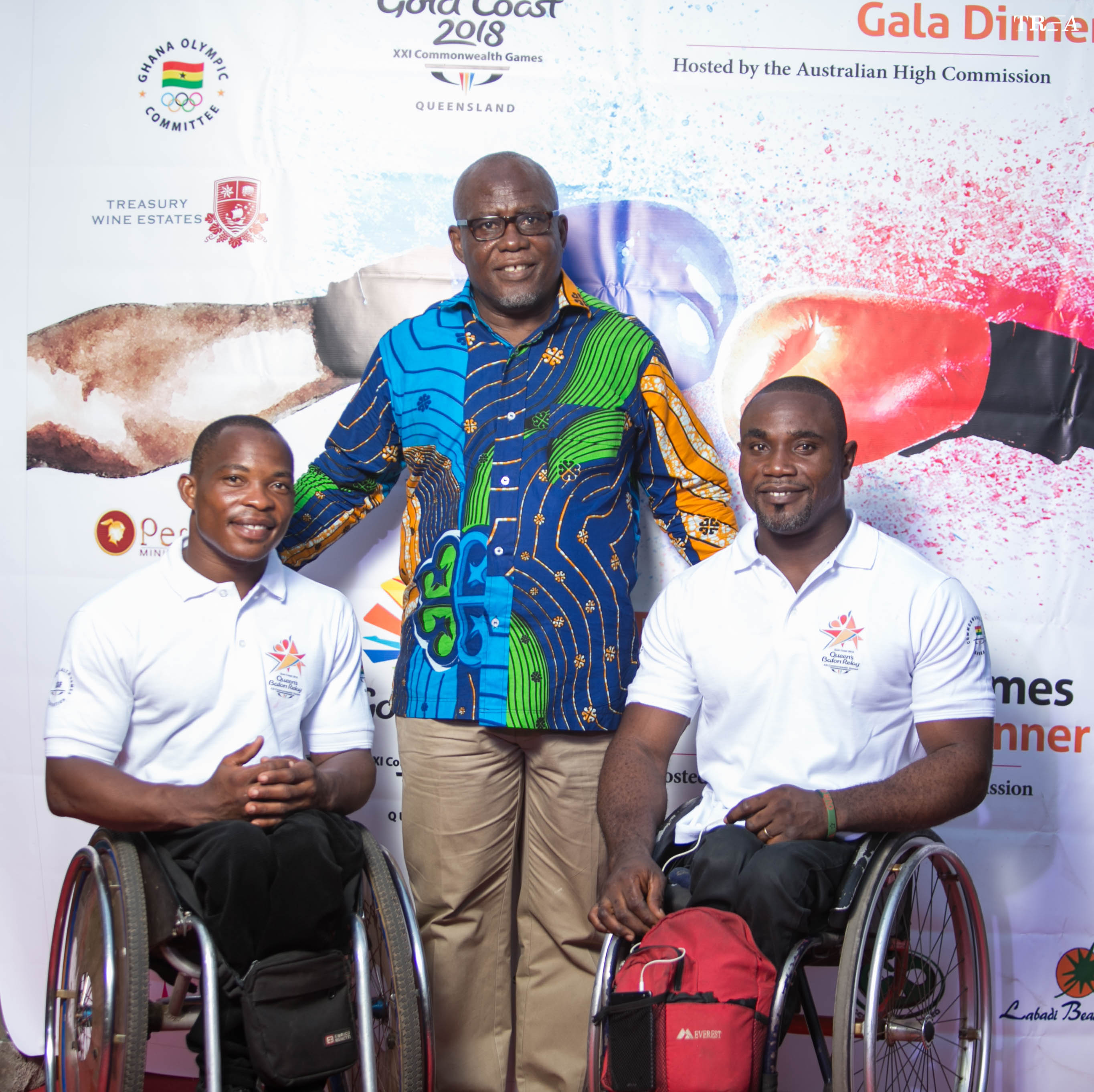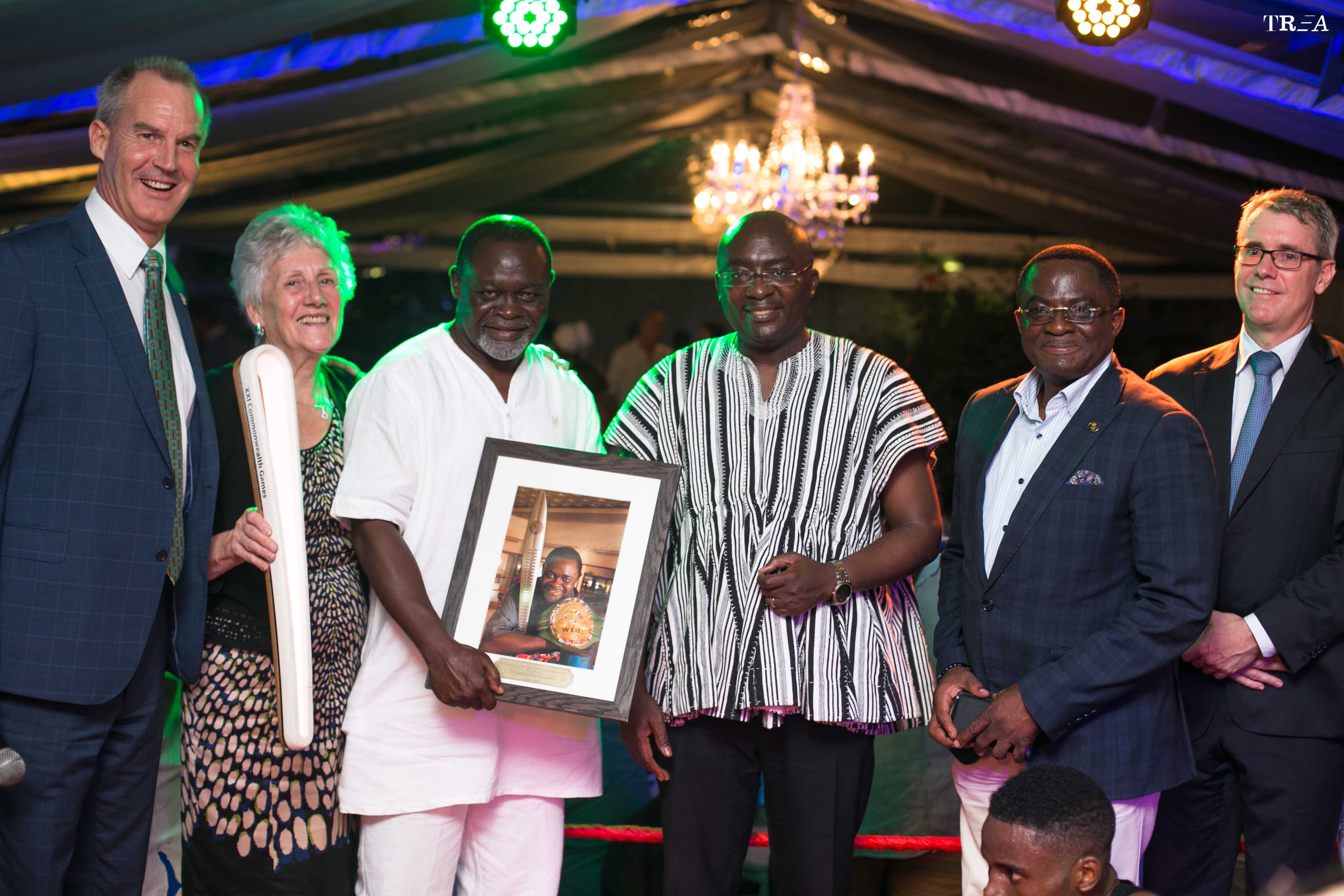 International Women's Day 2017 – Mentoring afternoon
The Australian High Commission teamed up with the Canadian and British High Commissions to facilitate an exchange between 75 senior high and university students and a representation of successful female executives and policy makers working in the STEM sector on International Women's Day. Ghana's Aviation Minister, Hon. Cecilia Dapaah, and Ghana's Electoral Commissioner, Mrs Charlotte Osei, were able to be among the mentors who came to share their experiences and inspire the students to #BeboldforChange.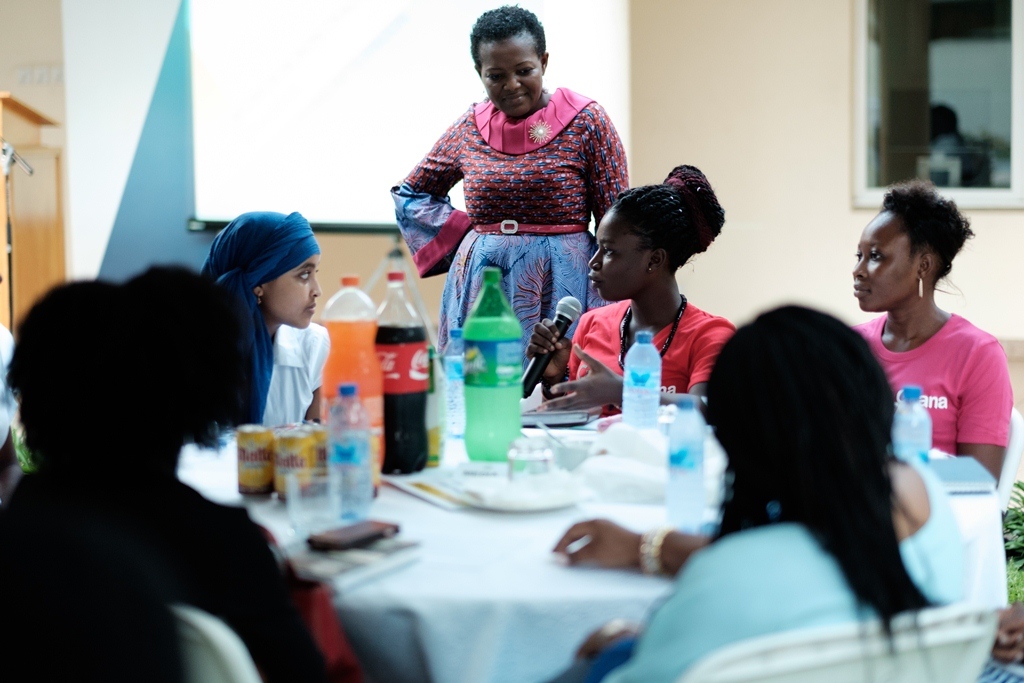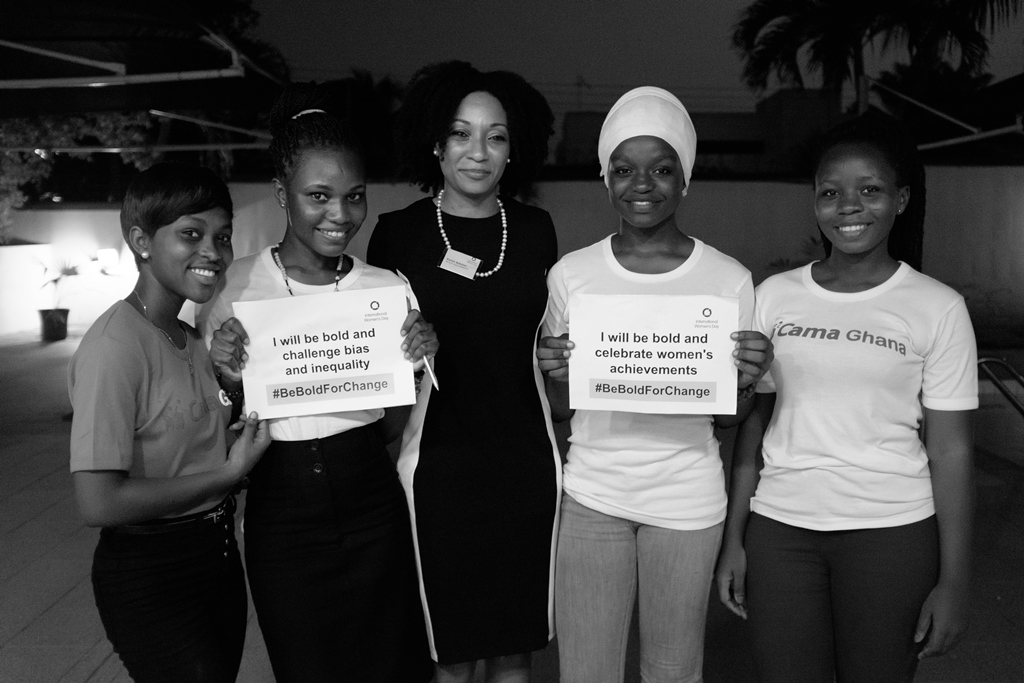 FOCUS: Australia - Côte d'Ivoire relations
Discover Australia's recent activities and collaborations with Côte d'Ivoire here (in French).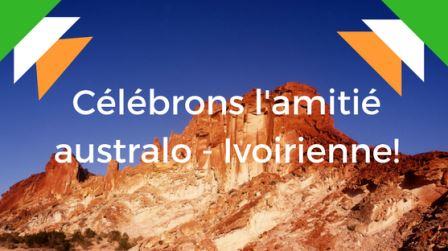 Australian Ambassador Barnes presents credentials to Togolese President Faure Gnassingbé
His Excellency Andrew Barnes is officially Ambassador to Togo after presenting his credentials to President Faure Gnassingbé in Lomé, Togo on 17 January 2017. It was the opportunity for both to discuss cooperation in maritime security and means to further bilateral cooperation.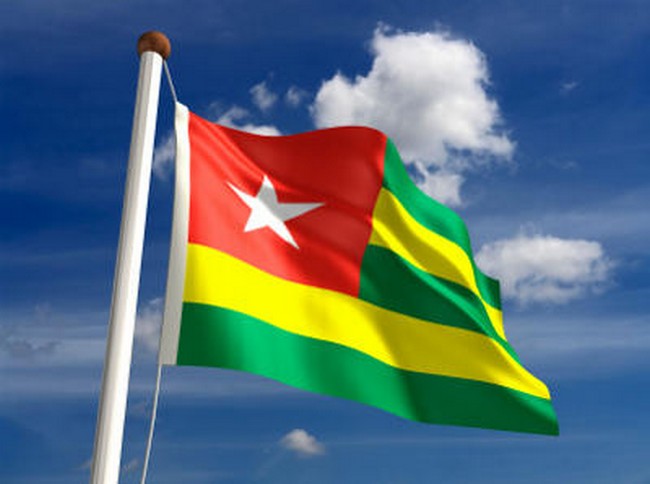 Australia's commitment to human rights is enduring
Read High Commissioner Andrew Barnes' op-ed celebrating Human Rights Day 2016 here. Australia works globally to boost effort towards improved economic, social and cultural rights. Australia is funding overseas development assistance to address poverty and lack of opportunity. We strongly champion the Sustainable Development Goals through our overseas development assistance program and we thrive as a nation that accepts, respects and celebrates its cultural and religious diversity. Australia is standing for election to the United Nations Human Rights Council for 2018-2020. As a member of the United Nations Human Rights Council, Australia will help advance human rights in practical, sensible ways that will have far-reaching systemic effects over time. Read more information here.
Australia celebrates International Day of Persons with Disability with children
To commemorate International Day of Persons with Disabilities (IDPwD), which fell on Saturday, 3 December, staff of the Australian High Commission in Ghana, led by the High Commissioner Andrew Barnes, spent time with children of the Orthopaedic Training Centre (OTC) in Nsawam, Ghana. The OTC is a non-profit organisation whose mission is to enable persons with disabilities in Ghana, mainly children, to lead independent and productive lives. IDPwD aims to increase public awareness, understanding and inclusion of people with disability and to celebrate their achievements. The Australian Government has been supporting IDPwD since 1996. As highlighted by High Commissioner Barnes, disability-inclusive development is a priority for Australia's international engagement.
As part of the visit, the High Commission presented the OTC with a cheque for AUD$60,000 (around GHS190,000), representing a grant the Centre had been awarded following their successful application for funding under Australia's Direct Aid Program. Staff of the High Commission also presented children at the Centre with assorted educational materials and spent time hearing their stories.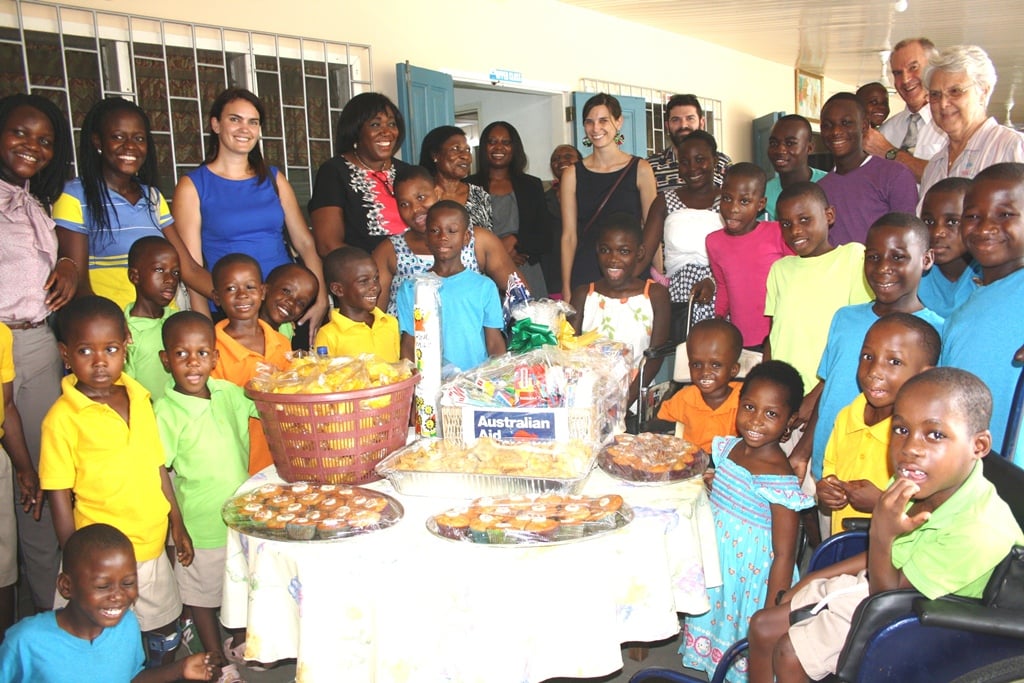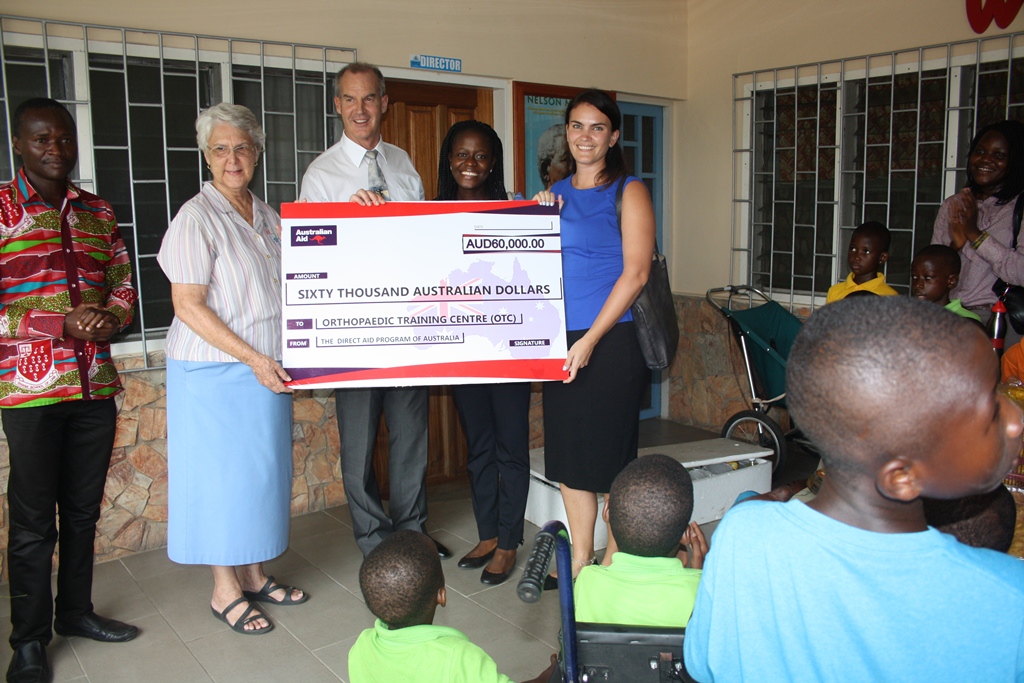 Australian High Commissioner Barnes presents credentials to Sierra Leonean President Ernest Bai Koroma
His Excellency Andrew Barnes is officially Australian High Commissioner to Sierra Leone after presenting his credentials to President Ernest Bai Koroma in Freetown. The visit was a great opportunity to hear about Sierra Leone's progress in implementing post-Ebola recovery plans, and discuss how Australian mining investment can help boost the economy.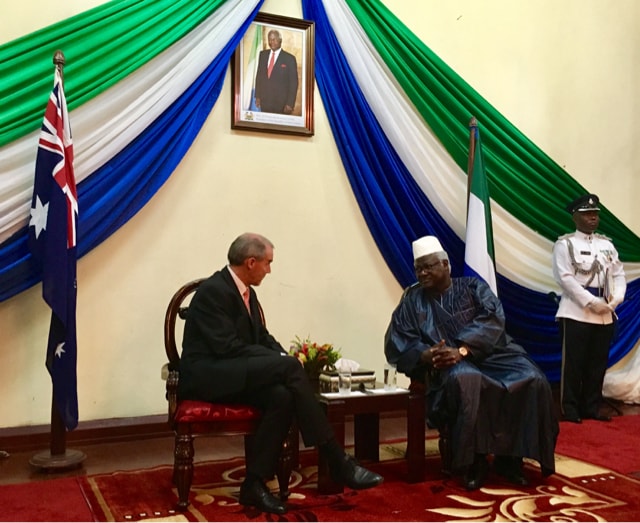 Australian Ambassador Barnes presents credentials to Senegalese President Macky Sall
Andrew Barnes officially presented his credentials to President Macky Sall to serve as Australian Ambassador to Senegal. This was an important occasion for both countries strengthening bilateral relations. It was also the first time an Australian Ambassador had presented credentials in Senegal in over 25 years.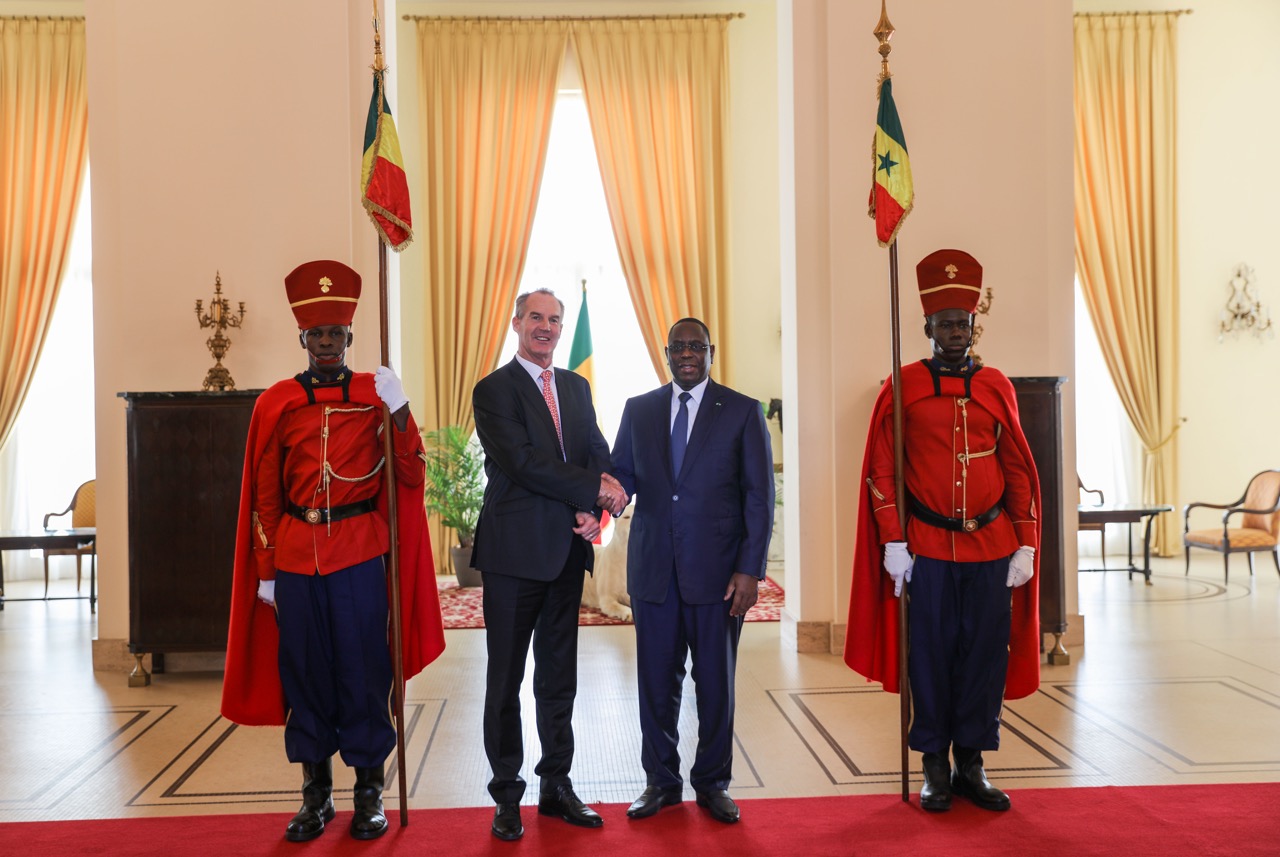 Australian High Commissioner Barnes presents credentials to Ghanaian President John Dramani Mahama
Australian High Commissioner Andrew Barnes presented his credentials to Ghanaian President John Dramani Mahama on Monday 3 October 2016 at the Flagstaff House in Accra. President Mahama welcomed High Commissioner Barnes, commending the good bilateral ties between the countries and highlighting Australia's strong mining credentials.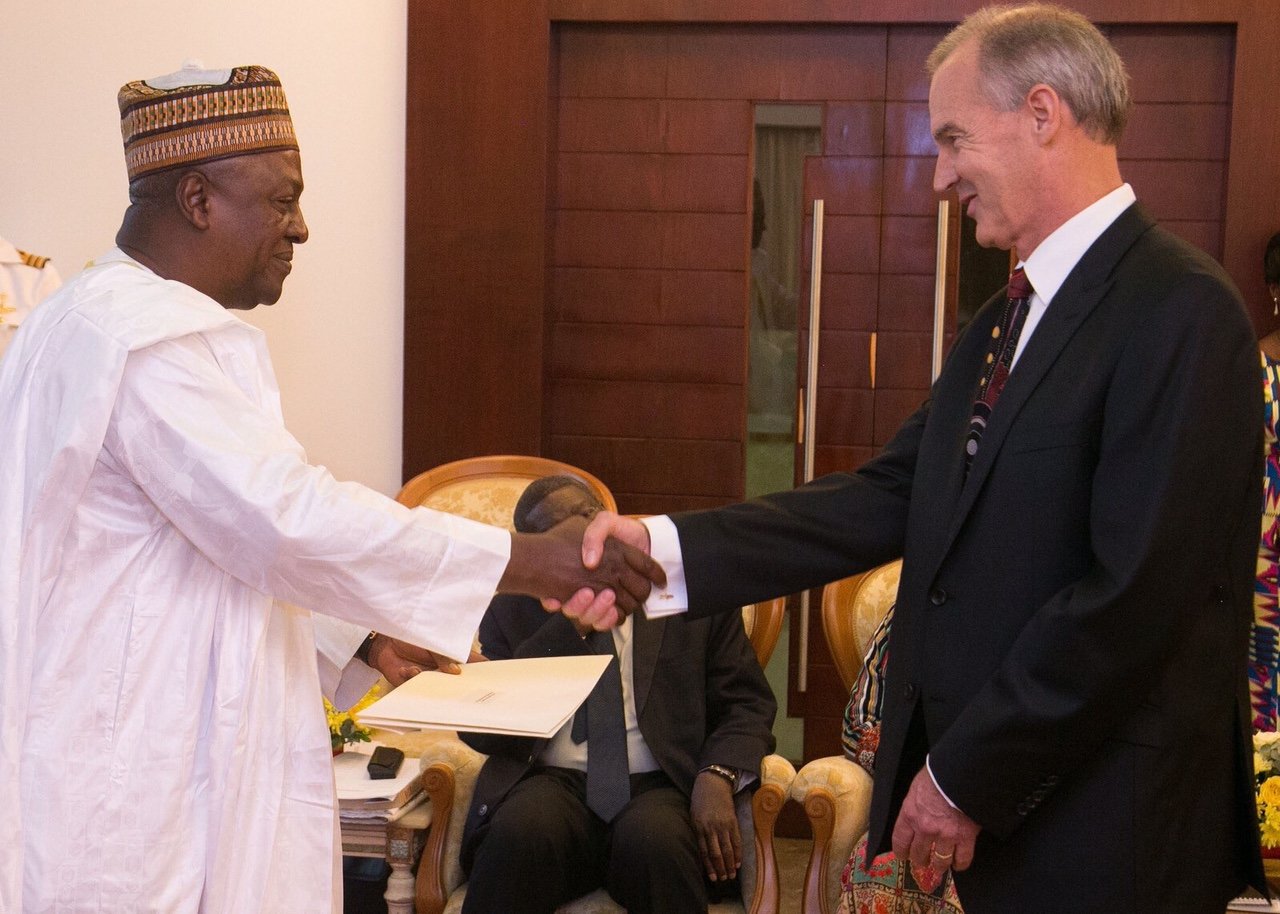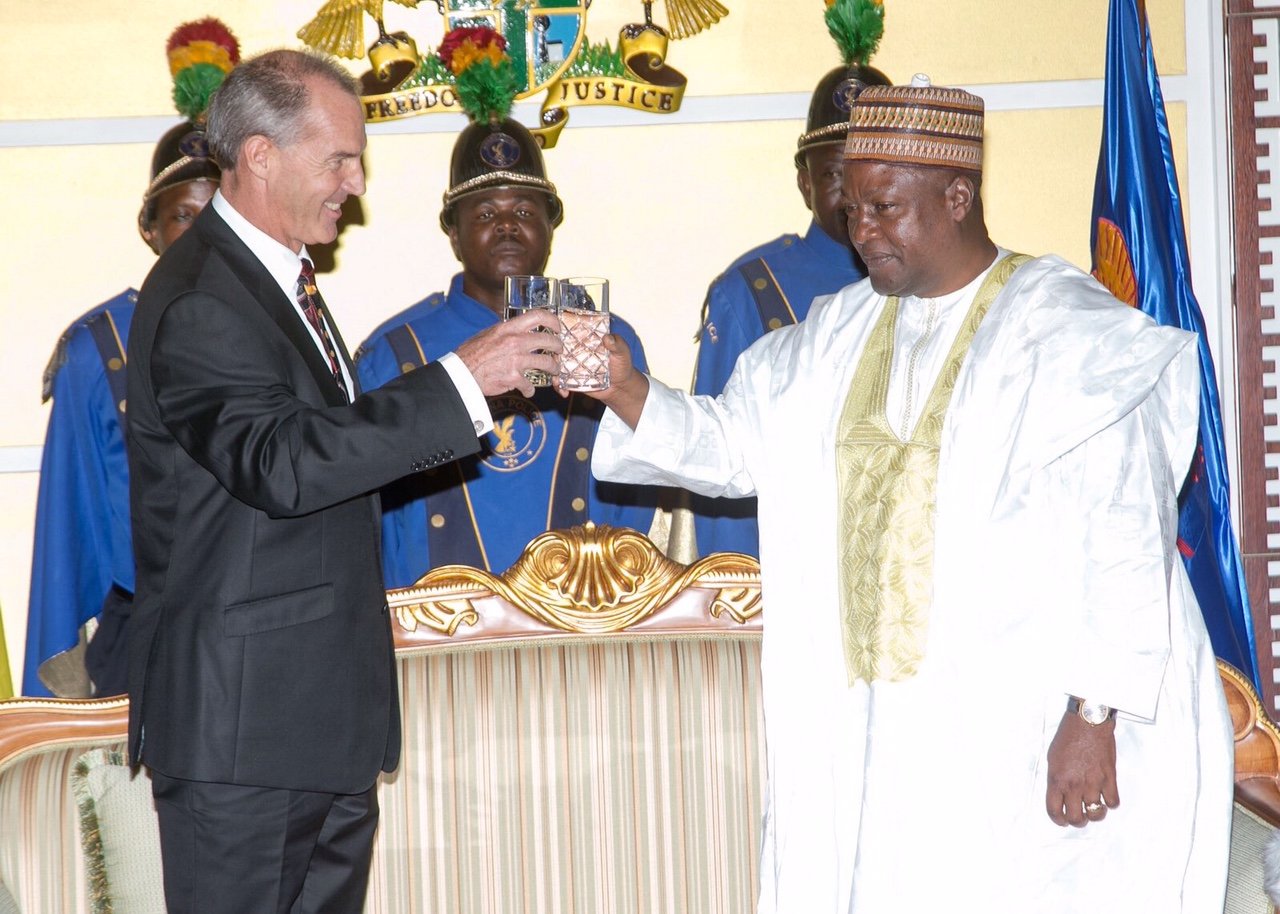 Australian cook shows Accra the art of barbecuing
Arthur Birch, an Australian cook with 12 years' experience in barbecuing techniques, shared his passion of the 'Barby' with guests of the Accra Premium Gourmet Club at the Australian High Commissioner's Residence. Guests enjoyed the tasty preparations of Wagyu Beef, Sirloin, Kangaroo and Ghanaian Grouper fish along with fresh and colourful salads!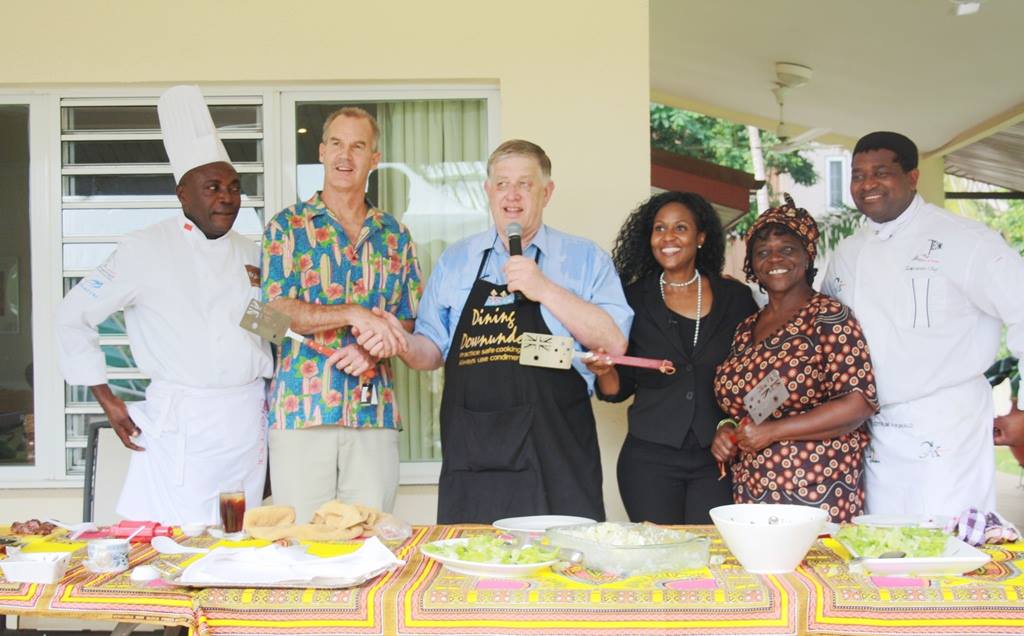 Hockey Association of Western Australia supports Ghana Hockey Association
The Hockey Association of Western Australia donated sticks, jerseys and balls to Ghana's Hockey Association. Thanking them for their support for stronger Australia- Ghana ties through sports!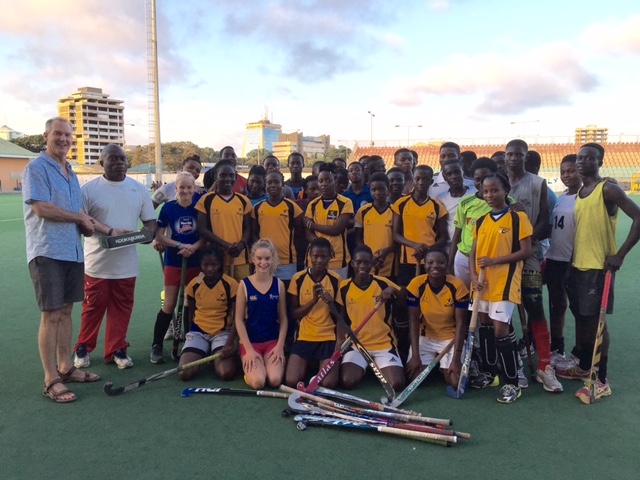 Accra marks Clean-up the World Weekend
The Australian High Commission in Ghana marked Clean Up the World Weekend by organising a clean-up of Sakumono Beach near Accra in Ghana on Saturday 17 September. Over 150 people volunteered, including members of the Australian mining community, who also kindly donated 18 waste bins to the cause. Thanking the American Embassy to Ghana, Environment360, NshoreNa, the Sakumono Assembly Representative, Sahara Mining Services, African Mining Services, Geodrill, Zoomlion Ghana and Voltic Natural Mineral Water: our partners for the program. A great reminder for us all to keep our coasts and environment clean because it is our place, our planet, our responsibility!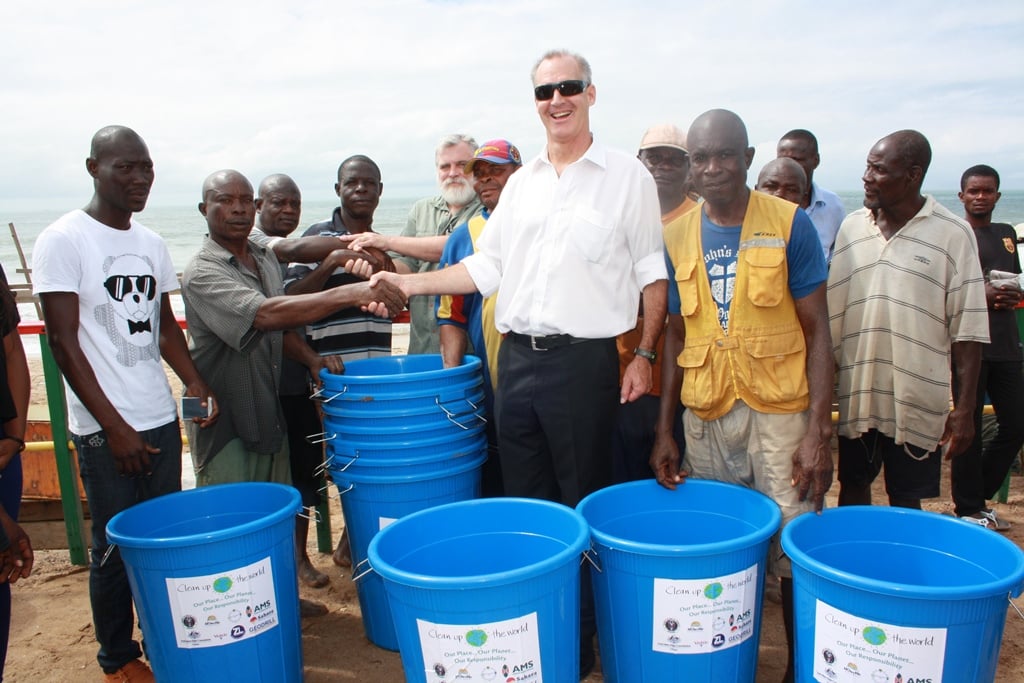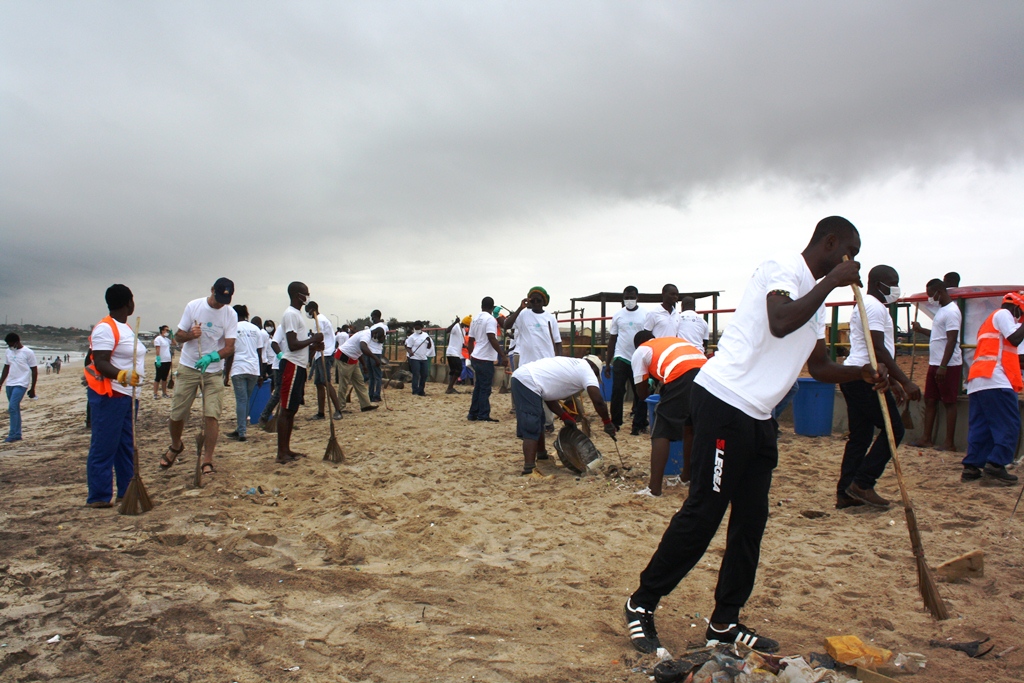 Australia celebrates women in politics
Australian High Commissioner Andrew Barnes was honoured to host a celebration of women in politics at his residence. High Commissioner Barnes welcomed former and present National Women's party political leaders, academics, journalists, ambassadors, heads of student representative councils and civil society representatives to discuss the challenges and opportunities facing women in the political arena. Guests listened to insights on means to 'Pave the way for women at all levels of democratic governance' from four esteemed speakers: Ms Elizabeth Ohene, journalist and former Ghanaian Minister of State; Hon. Della Sowah, Ghanaian Deputy Minister for Gender, Children and Social Protection; Ms Adwoa Bame, Deputy Convenor for the Women's Manifesto Coalition and Ms Bianca Juhl Andersen, Gender and Human Rights Specialist, UNDP.