Australian High Commission
Ghana
High Commission address: 2, Second Rangoon Close , (cnr Josef B. Tito Ave), Cantonments - Telephone: (+233 302) 216400 - Fax: (+233 302) 216410

We are keen to learn about anyone from West Africa who has studied in Australia, no matter how long ago. Please send us an email here.
Opportunities for business and the private sector!

Follow us on Twitter
Applications for participation in the Australian Government's new Business Partnerships Platform are now open. The Australian Government will co-invest between A$100,000 and A$500,000 with organisations who wish to combine social and commercial return and create development impact in selected sectors. Funds must be matched at least 1:1 by business. Further information on the program and application process, including template and guidelines, is available here. Applications close on 18 December 2015.
Melbourne Cup Charity Dinner 2015 raises funds for Dawhenya Community School
The Australian High Commission hosted 220 Australians and friends of Australia to celebrate the annual Melbourne Cup Charity Dinner. The Charity Dinner succeeded in raising over 75,000 GHS for the renovation of sanitation facilities for Dawhenya Community School. Thanks to all of those who contributed – this money will go a long way to improve the lives of many Ghanaian children. View the full photo album here .
Women in Mining Breakfast
The Australian High Commission Accra was glad to host a regional meeting of 30 female executives in the mining sector to interact on the topic of "Women in Mining: Challenges and Opportunities". All contributed in raising awareness of the crucial role women are playing in the sector and on means to achieve greater inclusivity in the industry. Videos of the breakfast-discussion coming soon.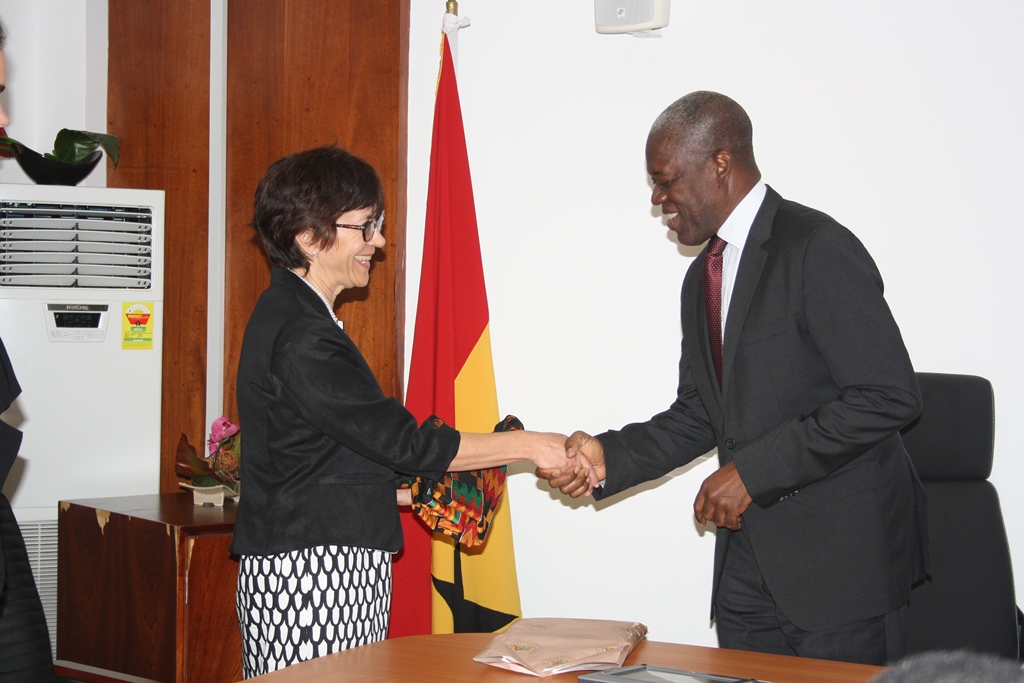 High Commissioner Joanna Adamson farewells Accra
Australian High Commissioner to Ghana and Togo, Burkina Faso, Mali, Côte d'Ivoire, Senegal, Liberia, Guinea, and Sierra Leone, Mrs. Joanna Adamson has ended her mission in the sub-region. She ended her mission with farewell calls to the Ghanaian Ministry of Foreign Affairs as well as meeting with Ghanaian Vice-President Mr. Paa Kwesi Amissah-Arthur.

Australia Award 2015 Pre-Departure Reception
The Australian High Commission in Ghana held a reception to congratulate the 2016 Australia Awards Scholarships recipients on 18 September. It was an occasion for the 15 recipients to meet and talk with alumni and share their experiences of Australia. It was also an opportunity for Australian Aid to invite other Ghanaians to apply for the latest round of Australia Awards Scholarships. Applications close on 18 December. More information can be found here.
Australian-supported Mining Governance Dialogue Series Report
The Australian High Commission supported a series of Mining Governance Dialogues to discuss key issues in the mining sector. The dialogues brought together key stakeholders from government, civil society, private sector, and communities affected by mining to seek innovative solutions to challenges in the sector. The dialogue papers and key conclusions have been compiled into "The Public-Private Sector Dialogue on Mining Governance in Ghana Series" attached, as a resource to continue the dialogue and implement solutions.
Ghana and Australia partner to Enhance Minerals Sector Administration in Ghana
Ghana and Australia signed an Exchange of Letters on 18 June, to signal the beginning of a two-year partnership to enhance the management of minerals rights in Ghana. The two-year technical assistance project, funded by the Australian Government, is expected to improve the effectiveness, accountability and compliance of the management of mining licenses and royalties in Ghana. Read more here
Frequently Asked Questions about Travel to Australia from Ebola-Affected Countries
New border–screening procedures are in place for travellers going to Australia from Ebola-affected countries. In some cases, these screening procedures will occur at check-in, or in transit. Full details are available on Smartraveller. Further detail is available in the Ebola Traveller's Information Sheet.
If you are travelling to Australia from an Ebola-affected country, check the Department of Immigration and Border Protection's website for the latest travel and visa requirements. Answers to frequently asked questions are available here.
Information for Australian travellers
Consular emergencies: call us in Ghana on +233 302 216 400. Outside office hours call us in Australia on +61 2 6261 3305.

Registration: Australian travellers and residents in Ghana and other countries in West Africa are encouraged to register with the Australian High Commission in Accra and to check Smartraveller for information on security issues. You can register in person at the High Commission or online through http://www.smartraveller.gov.au.

Passports: see Passports Australia.
Welcome from the Acting Australian High Commissioner
Welcome to the website of the Australian High Commission in Accra, Ghana. I hope you find the site interesting and informative.

I was delighted to commence my role as Acting High Commissioner from 19 October 2015. I will be here in Accra in this role until mid-December. A new High Commissioner will be appointed early in the New Year. The High Commission in Ghana is also responsible for Australia's relations with Burkina Faso, Côte d'Ivoire, Guinea, Liberia, Mali, Senegal, Sierra Leone and Togo.
The High Commission's job is to advance Australia's political, economic and other interests in all of these countries, and to work with partner governments on issues of common interest, including development, trade and investment and peace and security.
I look forward to many enriching experiences working to advance bilateral relationships and meeting Australians and friends of Australia across the region.

Andrew Barnes, Acting High Commissioner