Australia Awards Scholarships
The Australian Government's development cooperation program, Australian Aid, supports the creation of pathways out of poverty through human development and inclusive economic growth.
Australia Awards, a cornerstone of the Australian Government's development assistance program for Africa, provide access to postgraduate education, training and professional development opportunities. Australia Awards promote knowledge, education links and enduring ties between Australia and our partner countries.
Australia Awards Scholarships aim to:
develop capacity and leadership skills to enable recipients to contribute to development in their home countries
build people-to-people linkages at the individual, institutional and country levels.
Awards include:
Australia Awards Scholarships, to undertake higher degree studies in Australia at Master's level
Australia Awards Short Courses, to undertake short-term, targeted professional training courses, in Australia and/or in Africa, in a range of development-focused sectors
Australia Awards Post-Doctoral Fellowships, to engage in research activity in fields including, agricultural productivity, health and/or science and technology.
Further information about Australia Awards is available here. Interested candidates should visit www.australiaawardsafrica.org to apply.
If you encounter any challenges with your application, please contact the Australia Awards team at [email protected] .
Australia Awards Alumni
Are you an Australian Awards alumnus or alumna? You can join our alumni networks in Ghana, Burkina Faso, Liberia, Sierra Leone and Cote d'Ivoire. Contact us for more information.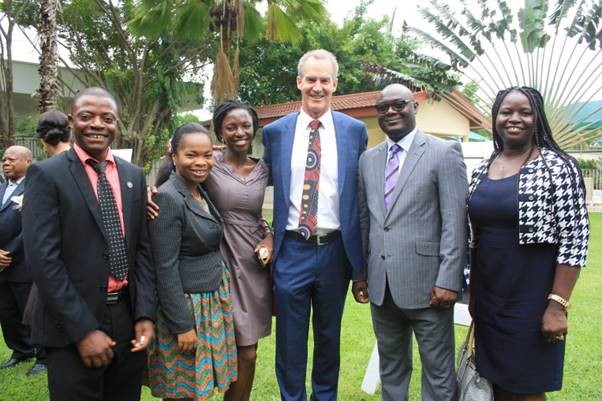 Photo: HE High Commissioner Andrew Barnes with Australia Awards alumni at a reception event.